We believe in setting
expectations
and meeting or exceeding them at every step. For us, this means no surprises, clear communication, dedication, and responsiveness. Here's an overview of the selling process — clear communication can never start too soon.
INITIAL PHONE CALL
Many of our clients call us after being recommended to us by a present or past client or a close friend. In our initial phone call with you, we like to discuss your goals and the highlights of your home, in addition to scheduling an in-person meeting so we can discuss a marketing strategy in more detail.
STRATEGIC MARKETING CONSULTATION
The strategic marketing consultation is an in-depth review of your home, the local market, and our integrated marketing approach to target buyers and agents. Our goal is for you to feel well-informed so that you can make the best decisions for you. This meeting typically takes around 90 minutes and covers: a pricing strategy overview based on current market conditions, an ideal time to place your home on the market, and an introduction to your Seller's Binder.
NEXT STEPS
We finalize the marketing dates, begin preparing your home for market, develop all of the marketing materials and manage all of the channels of distribution. After placing your home on the market, we will check-in regularly to ensure everything stays on track and keep you in the loop of any signficant changes in the market and interests in your home. Once you are under contract, we manage the closing period making sure that all deliverables are met in a timely fashion so that everything moves along smoothly.
THINKING OF SELLING IN THE NEXT 12 MONTHS?
EXPERIENCE HASSLE-FREE REAL ESTATE
Need to sell a home fast?  Want to get the most out of your sale?
No one wants their home to linger on the market. You want to sell in a time frame that yields the maximum dollar amount with as little inconvenience as possible.
The Christin Coffin Group is well-connected with other real estate professionals in Atlanta.  We'll  find your buyer and get your price  — no job is too difficult! We will follow through on every project, from start to finish. From getting the buyer qualified to arranging for your home inspections, the Christin Coffin Group will be there with you every step of the way.
Choose the experts and get great results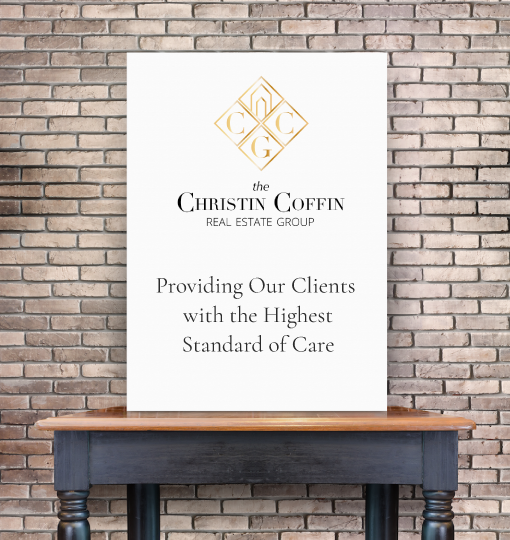 When selling your home, marketing matters. That's why we focus on the 4 Ps for all of our listings
The value of your home is a combo of current market conditions and your home's current condition, meaning better condition equals a higher price.
Buyers want to see well-maintained, project free homes so we emphasize the best features of your home to give it the greatest appeal through professional photos and beautiful staging to make it memorable.
When buyers compare homes, one of the biggest factors is price. Today's buyer is well educated with a plethora of information at their fingertips. Your home needs to be valued realistically and accurately at a price that's high enough to ensure maximum return yet still be attractive to buyers when they are comparing it to other homes. We help you do this by providing you with a wealth of very specific knowledge about the market in your neighborhood which enables you to price your home to sell in a timely manner.
When selling a home, it's 80% price and 20% effective marketing. That's why we focus most of our energy on the promotion part of the 4 Ps.
51% of buyers find the homes they buy on the internet, 34% find them through an agent, 8% from a sign, 4% from a friend or neighbor, 2% from a home builder, and the other 2% from the newspaper or they knew the seller.
We make sure your home is marketed in such a way that it could sell through any of these means.   
This is where the magic happens! We maximize exposure with advertising and engage buyers' emotions upon first seeing your home wherever that may be. Our targeted approach, including ad writing techniques and an in-depth social media strategy, is the most successful way to effectively market your home.
We don't promote your home as just another house, we promote living there as an experience by showcasing all the attractive features that made you want to call it home!
Integrating the 4 Ps is just a small component of the things we do for sellers at the Christin Coffin Group. When we meet with you, we will specifically discuss the market in your area, your financial situation, and strategize the most efficient and effective way to guide YOU to a successful sale.
We don't just list your home and hope for the best like you may have experienced in the past. We do everything we possibly can to effectively market your home so that it sells for the highest price within your ideal time frame. The list of marketing efforts that we implement for every listing is too long to showcase here. That's why we provide all of our potential clients with a detailed description of each one at our first meeting.
Many people pick just any REALTOR® or move from one to another to another without giving it a lot of thought.  After all, aren't they all the same?  No! Every aspect of selling a property is made simpler and more effective when you work with specialists. Work with the Christin Coffin Group!